China Outlines Plan to Ease Capital Controls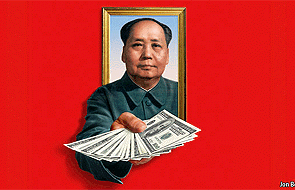 China outlined plans to allow citizens to invest in overseas stocks and property as well as let the nation's companies sell yuan-denominated shares abroad, furthering efforts to internationalize its currency.
Chinese nationals will be able to buy equities and real estate via a Qualified Domestic Retail Investor scheme, Wang Dan, a deputy director general at the central bank, said today at a conference in Beijing. There are also talks under way to give locals access to yuan capital markets in Singapore and London, she said, without giving any start dates or sizes for the programs. Agricultural Bank of China Co. announced plans today to become the first company to offer yuan-denominated Global Depository Receipts in London.
China, which is also scheduled to start an exchange link between Hong Kong and Shanghai this month, is seeking to give its citizens more investment channels amid a slumping property market and increased risks from local wealth-management products. The world's second-largest economy is also trying to promote use of the yuan, which ranked seventh for global payments in August from 12th a year earlier. 
Source: Bloomberg